We Yama Control Company, as a service provider are always committed to offer high quality products. To achieve 100% customer satisfaction, we follow stringent quality control norms and policies.

Our Quality Policy
"We strive for excellence in satisfying customer needs by providing quality products and services at affordable cost, on time through continual improvement, teamwork and by adequate training at all levels."

DIN EN ISO 9001 : 2000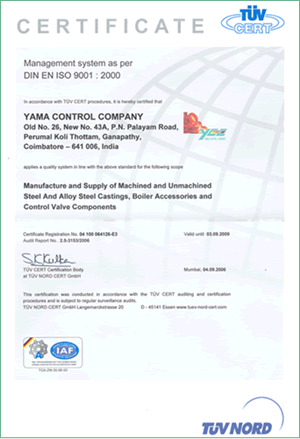 We have modernized unit for delivering high standard sand castings as per our specifications laid down by our esteemed customers. We have dedicated team of quality control experts, who follow stringent quality controls norms at each stage of casting process. This enables us to consistently deliver flawless castings without deviations either in time schedule or specification.

Our Equipments such as Universal Tensile Testing Machine, Heat treatment furnace are calibrated and certified by Certifying Bodies Like RWTUV & IBR. Depending upon the calibration frequency mentioned by the certifying bodies, we go for re-calibration. We are also in the process of going for further new certifying bodies depending upon our customer's requirement. Our welders are also being trained by competent persons for welding pressure vessels. They are also Qualified by RWTUV and IBR.
We have obtained AD - MERKBLATT WO, PED 97/23/EC/ Module H for our products from TUV Nord, Germany (Formerly RWTUV). We are in the process of getting the approval from other agencies like EIL (Engineers India Ltd.), Lloyds, API, DNV etc.
The main aim of implementing such international standards and procedures is to serve you better through best quality on time every time.